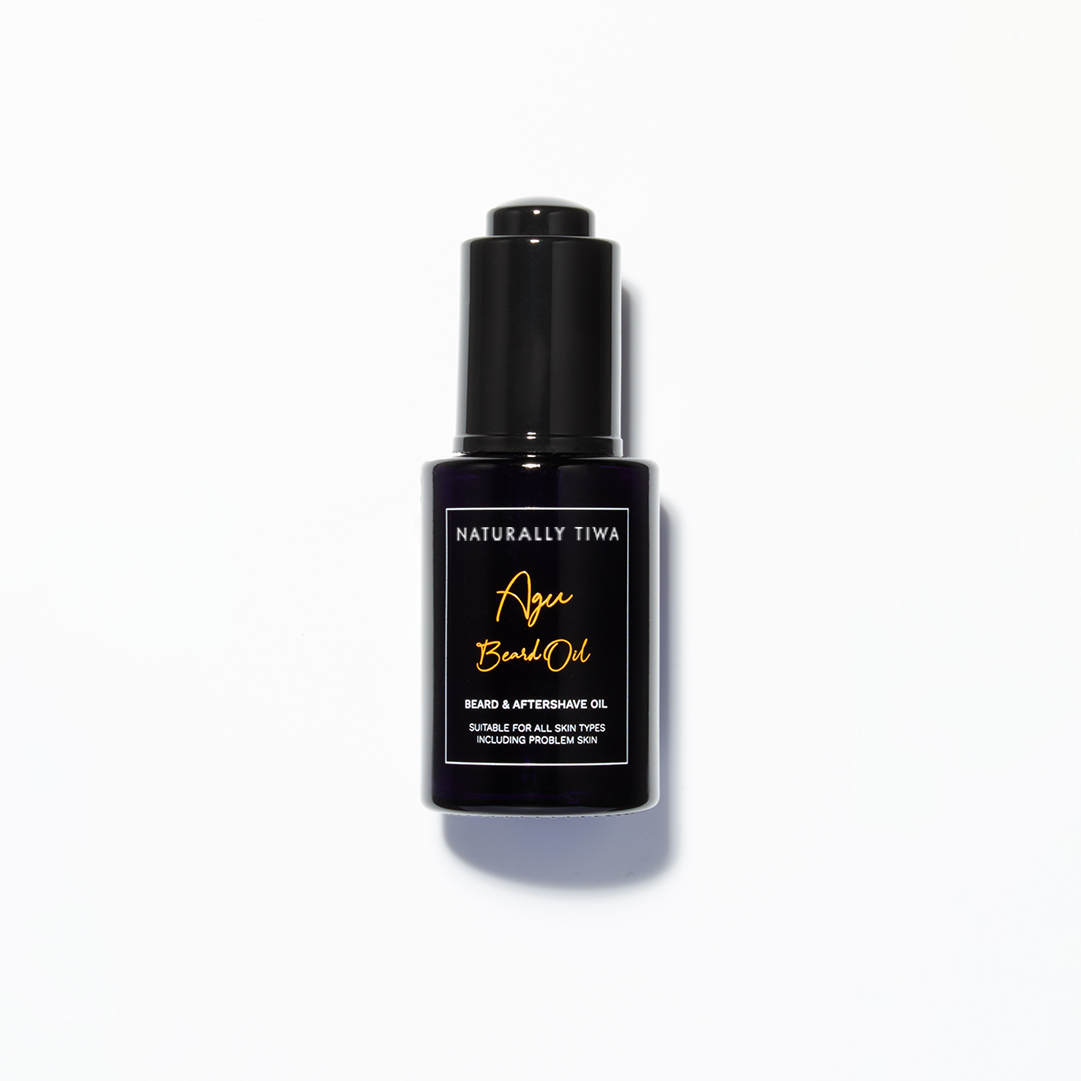 DESCRIPTION

USE FOR: Face

Our AGU Beard & Aftershave Oil softens the beard whilst the Shea Butter strengthens and nourishes. The natural formula protects and hydrates the skin underneath the beard, as well as preparing the skin for future shaves. Infused with Coconut and Argan Oil, it ensures hydration and a healthy shine.
UNIT SIZE: 30ml
BOX SIZE (WxLxH) mm: 39x39x95
WHO'S IT FOR?

Sensitive Skin, Eczema, Psoriasis, Rosacea, Dry Skin
NAME MEANING

Inspired by the 'Ibo' language, spoken by one of the three main tribes in Nigeria. The word 'AGU' in Ibo means 'Lion', depicting strength and fierceness.

HOW TO USE

BEARD OIL: Pipette a few drops of AGU Beard & Aftershave Oil onto your palm and rub hands together to ensure equal administration. Using your hands, gently rub the oil into your beard, making sure you make contact with the skin underneath. Once administered, brush the oil evenly through your beard. AGU Beard & Aftershave Oil does not need to be rinsed off after use. 


AFTER SHAVE OIL: Follow your normal shaving routine and on clean shaven skin, apply a few drops of AGU Beard & Aftershave Oil in your palm, rub your hands together to achieve an equal distribution of product, use your hands to then apply the nourishing oil to the clean-shaven skin.

INGREDIENTS 
Argan Oil, Coconut Oil, Grapeseed Oil, Shea Butter


KEY INFORMATION
Our ingredients are all natural, vegan certified and cruelty-free. We have also developed recyclable glass and cardboard packaging.
This product contains raw materials made from nuts. If you have a nut allergy please conduct a small patch test before use.  
SHIPPING
Order today and receive your product in 2-3 business days
Standard shipping in the UK is £3.49 and free delivery is provided for orders over £40
RETURNS
If you change your mind for any reason, simply return your order to us within 14 days in original packaging, unopened and unused and we will provide a refund or exchange.  
If your product has been damaged in transit please email us with a photograph of the damage and we will arrange delivery of a replacement.
AGU BEARD & SHAVE OIL